Thai food is a cultural inheritance transferred to and from generations. In Thai eating culture, rice is the main component to be consumed with other supplements. The Thai menu is composed of diverse methods of cooking, for instance, boiling, soup, frying, spicy salad and the chili paste with the combination of tastes; sour, salty, sweet and spicy that is rarely found in other national cuisines.
Basically, the preparation and the cooking method of the Thai food are delicate. In addition, the decoration by using various colors of vegetables and fruits including the carving of these materials are the arts inherited from the ancient time. These make the Thai food popular in many countries.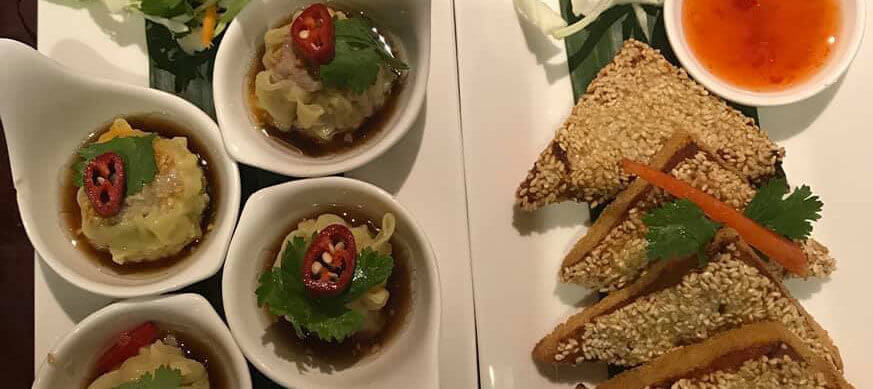 Tasty dishes FOR LUNCH
TUESDAY – SUNDAY 12:00 PM – 2:30 PM 2 course meal £8.95
strips of chicken marinated and grilled on a skewer over charcoal served with peanut sauce and cucumber dip.


Sweet corn flitter with slightly taste of curry paste served sweet chilli sauce.


Vegetarian  spring roll served with sweet chilli sauce
main course £5.99
Choice of chicken, pork, beef or vegetarian served with rice or egg noodle
Thai green curry or Thai red curry

Thai green curry or Thai red curry with bamboo shoot, vegetable, and basil leaf.


Thai yellow curry in coconut milk with onion, potatoes, and carrot.


very popular Thai stir fried with chilli and basil leaf.

Opening Hour
Lunch 12.00 – 2:30 PM
Dinner 05.00 – 23.00 PM